Are you applying to study healthcare at University?
Virtual 25 Jan 2022 at 5:30pm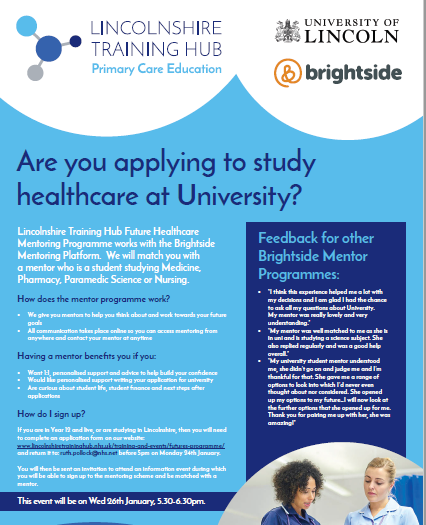 Lincolnshire Training Hub Future Healthcare Mentoring Programme works with the Brightside Mentoring Platform. We will match you with a mentor who is a student studying Medicine, Pharmacy, Paramedic Science or Nursing.
How does the mentor programme work?
We give you a mentor to help you think about and work towards your future goals. All communication takes place online so that you can access mentoring from anywhere and contact your mentor at anytime.
Having a mentor benefits you if you :
Want 1:1, personalised support and advice to help build your confidence. Would like personalised support writing your application for university. Are Curious about student life, student finance and next steps after applications.
How do I sign up?
If you are Year 12 and live, or are studying in Lincolnshire, then you will need to complete an application form on our website:
Futures Programme – Lincolnshire Training Hub
Return to ruth.pollock@nhs.net before 5pm on Monday 24th January.
View all events