Primary Care Employer Briefing Event:
Apprenticeships – 3rd Sept 2020
On-line Event 3 Sep 2020 at 10:00am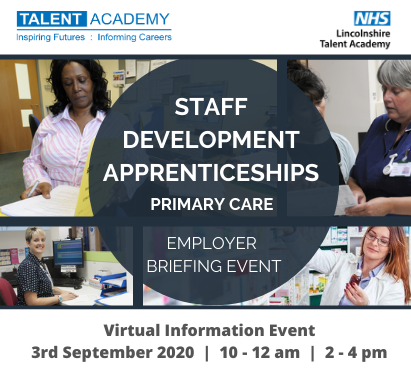 Following on from our previous employer briefing event held back in March 2020, Primary Care partners are invited to attend this virtual event to hear more about how apprenticeships are helping to deliver the workforce agenda.
Event Objectives
With fully funded programmes available via the Lincolnshire Talent Academy, this free to attend event aims to:
provide an overview of the apprenticeship programme and opportunities across clinical and non-clinical roles
break down the myths related to apprenticeships
update delegates on current national funding initiatives to support take up of the programme
provide examples of development pathways for workforce transition
hear from existing apprentices
provide information relating to the funding over available to support General Practice across Lincolnshire
Who is the event for?
Whether or not you are a Practice Manager looking for solutions to meet organisational workforce recruitment and development challenges, or a member of staff looking for further opportunities to develop and progress, this event is for you!
Working on behalf of the system, the Lincolnshire Talent Academy is able to offer bespoke support to employers looking for dedicated, funded solutions to their workforce development needs.
We will provide examples of how the apprenticeship programme has been used to support the recruitment of new staff within Lincolnshire, whilst assisting the onward development of existing staff as part of a structured approach to workforce recruitment, development and retention.
Proposed Event Schedule
Introduction to the Lincolnshire Talent Academy
Overview of the apprenticeship programme

Dispelling the myths
Qualification overview
Range of qualifications by occupation
Examples of apprenticeship development pathways

Employer and learner obligations
Lincolnshire Talent Academy Primary Care Funding Offer
Next Steps
Invite your Colleagues
Please feel free to signpost other colleagues to the event.  The event flyer can be downloaded here .
Register for the Event
To book your place, please click on the link below to download the Booking Form.  Delegates will be issued with full joining instructions prior to the event.
View all events