Insight into Health & Care Careers Virtual Event 2020 – Review
Posted on 21st December 2020
The 5th & 6th December saw the fourth annual Lincolnshire Health & Care Careers Event take place, although this year was very different due to the event taking place online due to COVID-19 restrictions. However, this did not stop the Talent Academy from providing a jam-packed schedule of various health and care careers sessions.
Once again, this event offered a fantastic opportunity for the general public and students from schools and higher education providers to explore the varied care options within the health and care sector. The sessions at the event varied from Medicine to Nursing to Estates & Facilities Services. Attendees had the opportunity to select from a variety of 45 minute workshops throughout the day, to hear from our very own Lincolnshire staff who provided information on their role and what it is really like to work in their job role.
A great benefit of the event being online meant that it was very easy for individuals to attend. With nearly 1000 attendees over the weekend, it was a fantastic turnout with attendees joining from all over Lincolnshire and also outside of Lincolnshire.
If you did not get chance to attend the event do not panic! All recordings of the sessions and Q&A sheets can be found on the Resources page on the Talent Academy Work Experience Portal. Sign up here to access all event resources – https://nhs-lincs.work-experience.co.uk/login
Finally, the Talent Academy would like everyone involved and all those who attended that helped the event run as smoothly as possible.
See you again in 2021!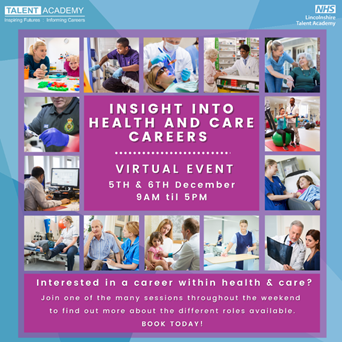 View all news