Lincolnshire Health & Care Career Event 2018 – Resounding Success
Posted on 13th December 2018

On 10th December 2018, NHS and Care staff took part in the Talent Academy's second annual Health and Care Careers event, held at the Engine Shed, University of Lincoln.
With fantastic feedback from all who attended, the event consisted of two elements:  the Market Place within the Engine Shed, promoting over 50 occupational career stands and rolling career talks all supported by our own staff.  The market place provided a unique opportunity for individuals to speak to a variety of staff from clinical and non-clinical roles across the system in order to gain a better understanding about the diversity of roles whilst gaining first-hand feedback from staff themselves.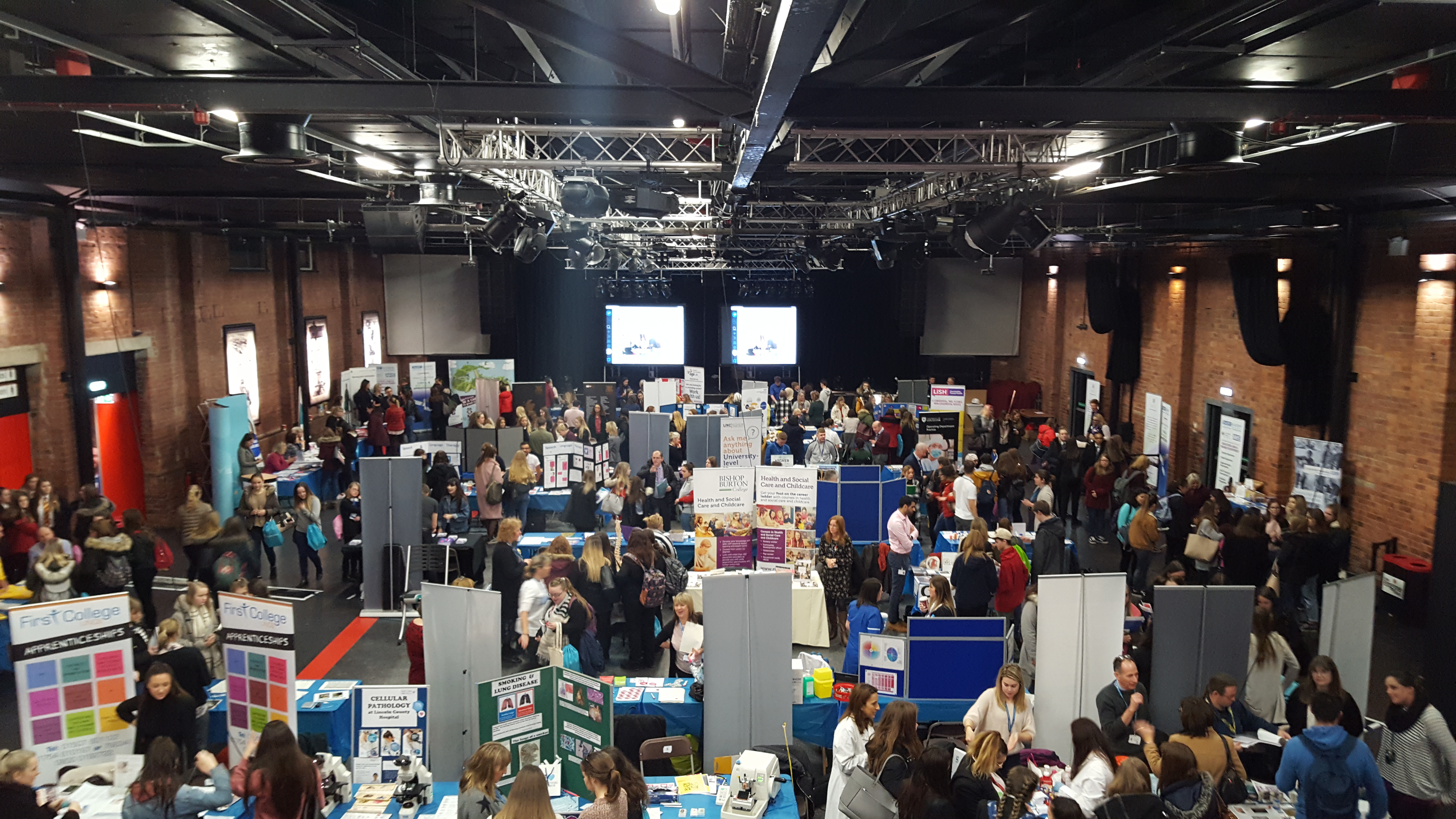 The Market Place within the Engine Shed
 "I really liked the Market Place because it opened my eyes to such a wide variety of career paths that I can take in the near future."    Student, Casterton College
"I really enjoyed the Market Place and talks as I could meet and listen to people with experience in the fields I was interested in instead of just reading about them. Learning from hands-on experience was also very helpful."  Student, Casterton College
In addition, running parallel to the Market Place was the Talent Academy's education programme workshops for schools, delivering student career workshops within the Clinical Skills Suites at the Sarah Swift building.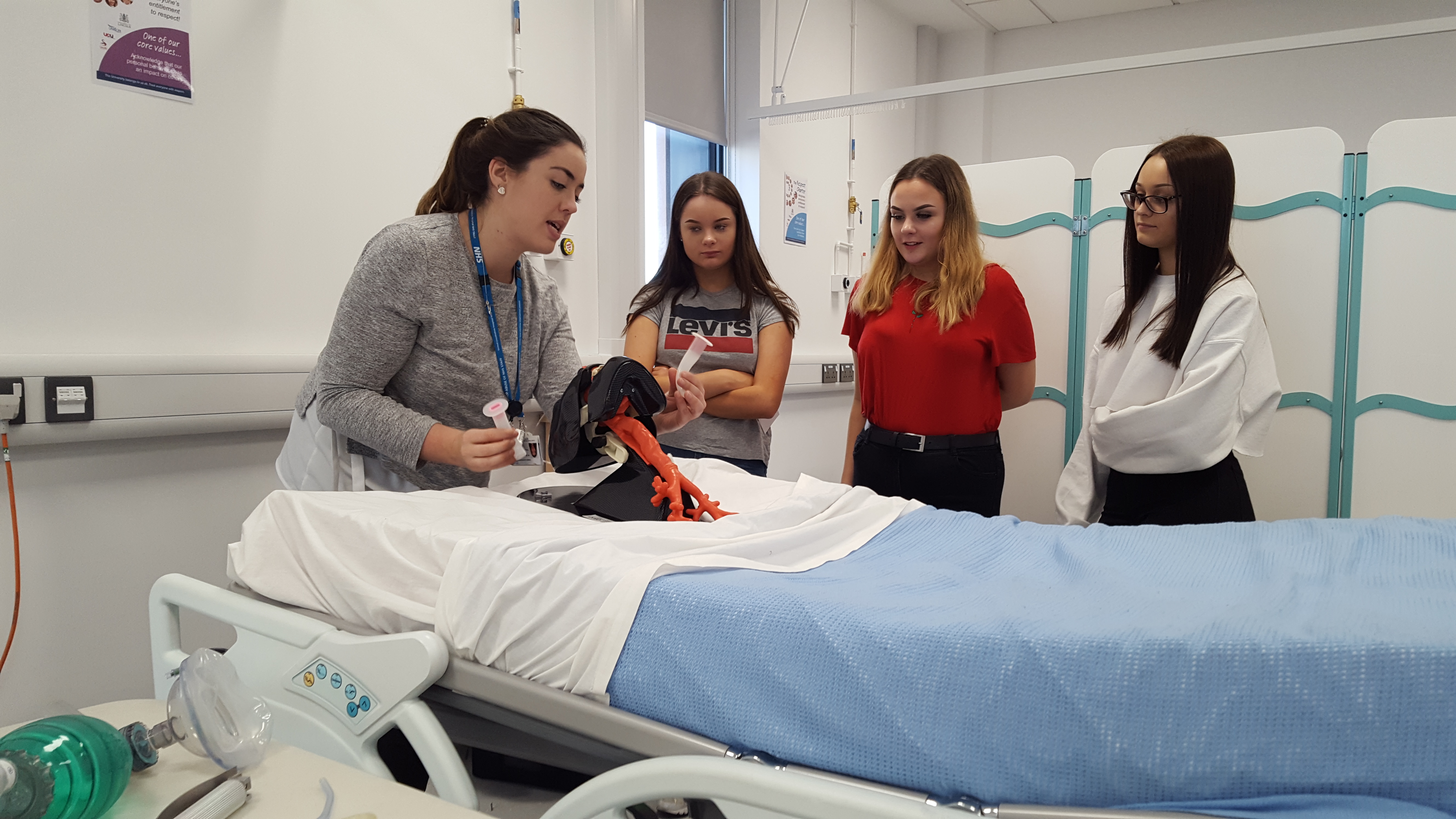 Student demonstration within the Medical Workshop
A total of 683 student interventions took place throughout the day within the education programme workshops.  Delivered by NHS and Care staff in conjunction with Talent Academy stakeholders and University of Lincoln Medical School staff, a total of 5 dedicated career workshops were made available to schools prior to the event, covering roles within Maternity, Nursing, Allied Health, Medical and Social Care, all of which were fully booked within 48hours of opening them up for bookings prior to the event.
Offering students the opportunity to work alongside professionals whilst undertaking interactive, hands-on practical activities, feedback from participants and careers staff were extremely positive.
"My favourite workshop was midwifery because it gave us a chance to physically interact and learn about the importance and uses of red blood cells."  Student, Casterton College
It is estimated around 850 people attended the event during the day.  Speaking on behalf of the Talent Academy Team, Claire Flavell, Strategic Lead commented "the 2018 event has proven to be bigger and better than we initially anticipated having received so much support from staff across the Health and Care sector, all of whom wanted to get involved and gave their time to support us.  The success of the event is a testament to the passion our staff have for their roles and their commitment to helping us to inspire our future workforce.  A huge thank you to all for their continued support."
Planning for the 2019 Lincolnshire Health & Care Careers event will commence in early Spring.
Should you wish to get involved either as an exhibitor or delegate, please don't hesitate to contact the Talent Academy Team:  Email:  NHS.Talent@ulh.nhs.uk
View all news