#NHS100Challenge launches today!
Posted on 4th March 2019

A Lincolnshire challenge to sign up 100 staff onto apprenticeships in 100 days across our 3 NHS trusts!
The Talent Academy is proud to launch the #NHS100Challenge campaign today during National Apprenticeship Week with the aim to enrol 100 staff onto an apprenticeship programme in 100 days across our 3 NHS Trusts.
This week our Talent Academy NHS Trust stakeholders will be hosting a series of roadshows in Spalding, Boston, Gainsborough, Sleaford, Lincoln, Louth and Grantham.
Whether you're looking for existing staff development, or recruiting new staff, the apprenticeship programme has so much to offer. Lincolnshire NHS staff are free to attend any of our Talent Academy roadshows.
At each roadshow, staff will be able to find out how an apprenticeship can support them.
The dates and times for the week-long event are as follows:
4th March
Johnson Community Hospital, Spalding – Room ADM109 – 9:30am – 3pm
Pilgrim Hospital, Boston – Postgraduate Committee Room – 9:30am – 11:00am
5th March
John Coupland Hospital, Gainsborough – Bay 4 – 9:30am – 3pm
6th March
L&D Centre, Unit 3, The Reservation, Sleaford – 9am – 3pm
7th March
Lincoln County Hospital – ULHT Board room – 1:30pm – 3:30pm
8th March
Louth County Hospital – Thomas Suite – 9:30am – 3pm
Grantham & District Hospital – Stonebridge Classroom – 9am – 11:30am
All NHS Lincolnshire staff are welcome to attend the workshops regardless of banding.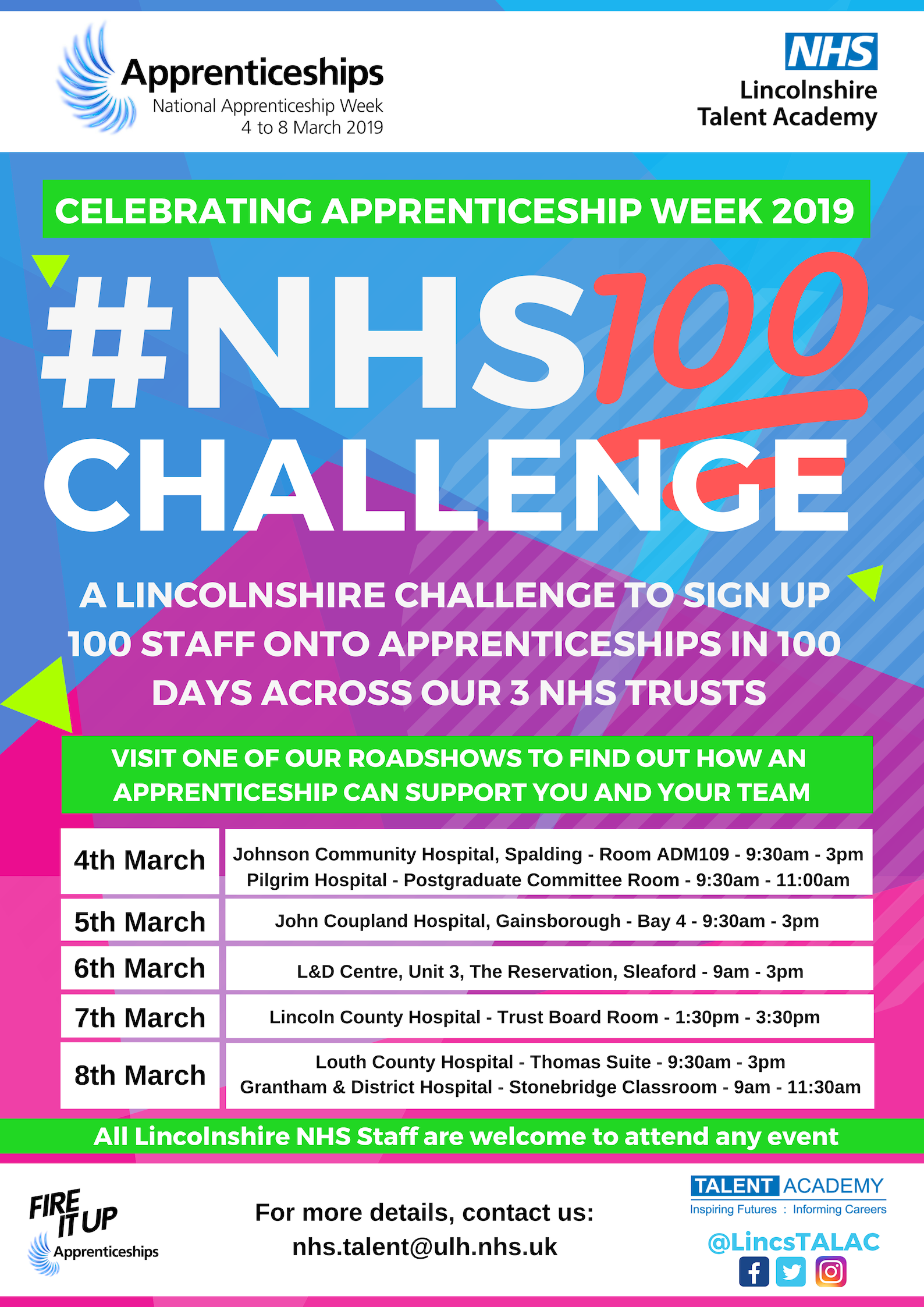 The poster for the event – Click for a full sized version.
For more information about your Trust activities, please contact:
ULHT:    NHS.Talent@ulh.nhs.uk
LPFT:     sharon.jolly@lpft.nhs.uk
LCHS:    lee.gifford@lincs-chs.nhs.uk
Or contact the central Talent Academy office directly:  NHS.Talent@ulh.nhs.uk
Follow us on social media @LincsTALAC
View all news