Day two of #NHS100Challenge!
Posted on 5th March 2019

There's roadshows, highlights of clinical apprenticeships and much more!
Talent Academy stakeholders are going to be at the John Coupland Hospital talking to staff about apprenticeships.
These roadshows are drop-in sessions welcome for all NHS Lincolnshire staff to attend.
Whether you're looking for existing staff development or recruiting new staff, the apprenticeship programme has so much to offer. Lincolnshire NHS staff are free to attend any of our Talent Academy roadshows.
Did You Know?
That Apprenticeships are not just for school leavers?
Actually, contrary to popular belief that apprenticeships are just for school leavers, they are available to everyone from the age of 16 and there is no upper age limit.
These include these Apprentices, who have shared their stories:
Sofia – who is a Trainee Nursing Associate for Lincolnshire Partnership Foundation NHS Trust
Debbie– who is an Immunisation Support Worker for Lincolnshire Community Health Services
Deborah– who is a Senior Health Care Support worker for Lincolnshire Community Health Services
Let's share and celebrate apprenticeships!
We have asked NHS Lincolnshire apprentices to share their experiences being an apprentice using the hashtag #NHS100Challenge on social media!
Join the conversation on social media – use the hashtag #NHS100Challenge and find us @LincsTALAC!
The week ahead
Tomorrow – Talent Academy stakeholders are going to be at the Learning and Development Centre in Gainsborough, Bay 4 from 9:30am until 3pm.
Thursday – there will be a roadshow at the ULHT boardroom at Lincoln County Hospital at 1:30pm until 3:30pm
Finally, on Friday we will be at the County Hospital, Louth in the Thomas suite from 9am-3pm.
We will also be at Grantham & District Hospital in the Stonebridge Classroom from 9am – 11:30am on Friday as well!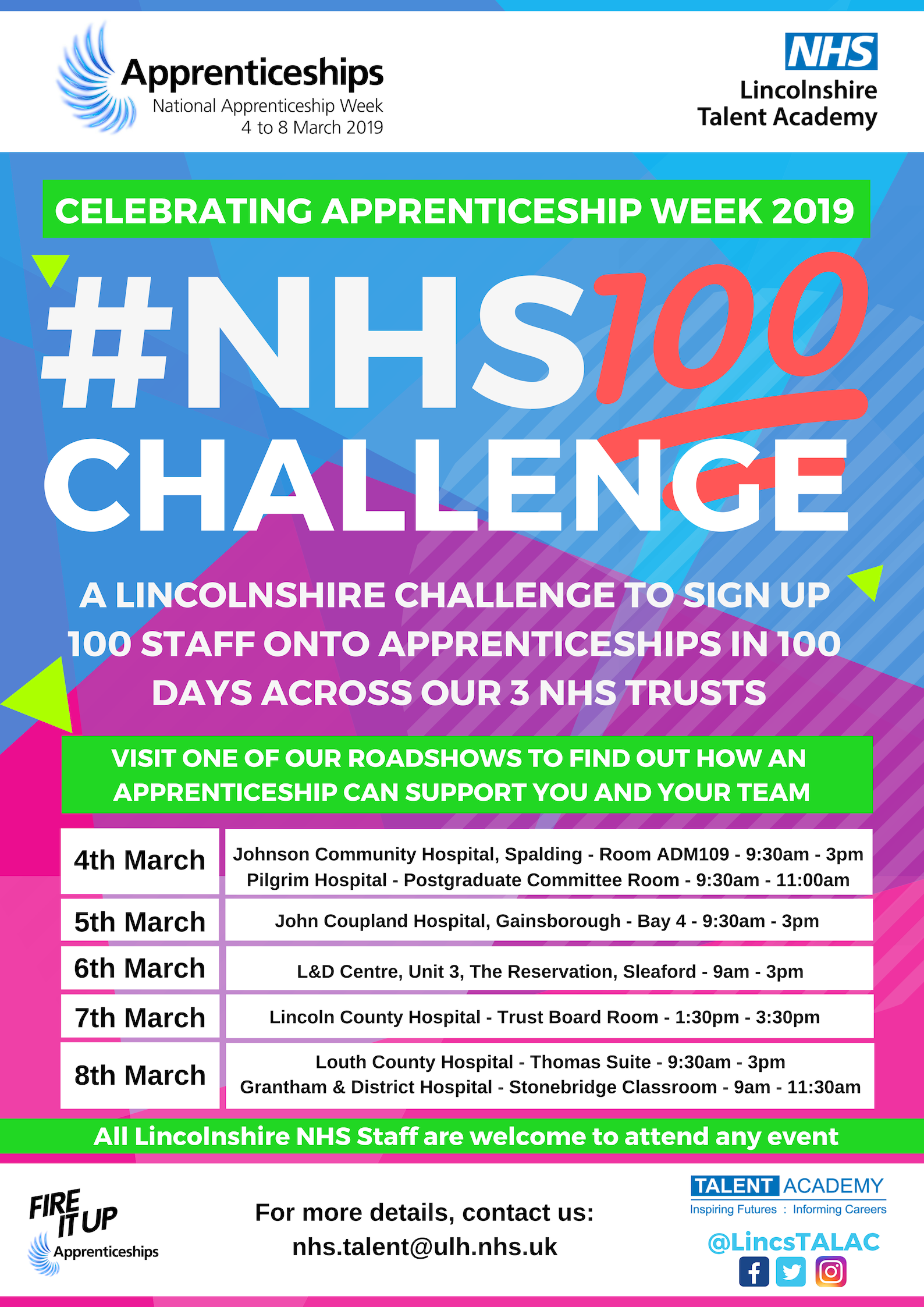 Tomorrow we will be highlighting just some of the non-clinical apprenticeships that are available – be sure to follow us on social media @LincsTALAC to find out more!
View all news